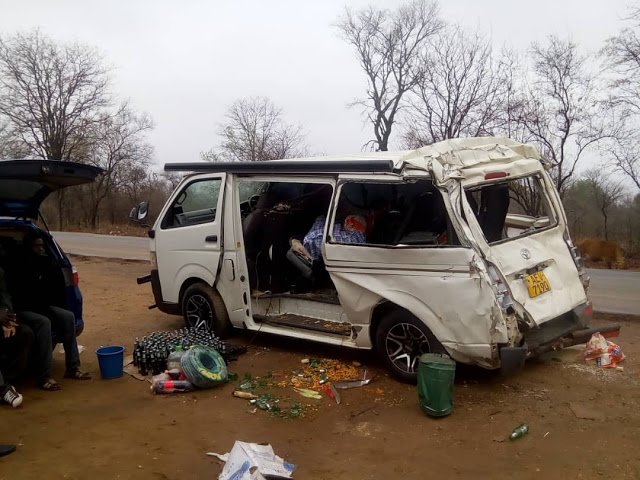 …as killer driver gets freed for a fine in Zaka
Clayton
Shereni
With road carnage continuing to rock the roads, many
people are becoming increasingly unconvinced that the courts of law have what
it takes to fight the problem especially with regards to the punishment of
unlicenced drivers.
Unlicensed drivers continue to wreak havoc on the country's
dilapidated road network with little worry of what the law could do to them.
Although a lost life cannot be recovered, families of
victims of fatal road accidents always hope for justice to be carried out
especially in case where the accident involves an unlicenced driver but if
truth is to be told, the courts are no longer reliable dispensers of justice in
that regard.
On September 19, 2018, tragedy struck along Roy-Chiredzi
highway near Mashingaidze Primary School when a Toyota Ractis side-swiped a
Mazda Titan causing the untimely death of Tinovonga Gwitima who died upon
admission at Masvingo Provincial Hospital. The accident also claimed the life
of Agricultural Extension Officer Abigail Mhumi who succumbed in Harare four
days after the fateful day.
According to a detailed evaluation and observation done
by Zimbabwe Republic Police (ZRP) Sergeant (Sgt) Erinos Kuzipa which is in
possession of TellZim News, Maxwell Magazine (28) who was driving the Toyota
Ractis was speeding and encroached into the lane of Lardslous Madzvamuse who
was driving the Mazda Titan lorry.
After a thorough investigation, it was discovered that
the complainant Madzvamuse was a holder of a clean class four driver's license
but it was unearthed that Magazine did not have any driver's licence.
Considering that the law did not allow Magazine to drive
in the first place, and that he was the one who failed to drive properly, he
faced charges of negligent driving and culpable homicide.
The case was presided over by Zaka magistrate Florence
Nago whom the community had logically expected to hand down a stiff sentence
against the offender. On February 19, 2019, Nago, as expected, convicted
Magazine on charges of driving without a licence and culpable homicide but went
on to pass a judgement that everybody would be forgiven for questioning.
Nago fined Magazine $100 for driving without a license
and a $400 fine for culpable homicide. She also handed down two months and eight
months jail sentences but conditionally suspended them. She also prohibited
Magazine from driving a motor vehicle for one year and ordered him to not commit
any offence involving negligence driving in the next five years.
In 2011 and 2012, Gutu resident magistrate sentenced more
than four unlicensed drivers to a minimum jail sentence of four years each. In
all these cases at least one passenger succumbed to injuries sustained in these
accidents.
In December 2018, a 33-year-old Harare tout, Chrispen
Magaya appeared before a Harare Magistrate facing charges of culpable homicide
and driving without a license after knocking down Joseph Munyame who was trying
to cross Lomagundi road in the capital.
Magaya was given an effective five year jail term and was
banned from driving public transport.
Masvingo provincial magistrate, Langton Ndokera was not
available to give a comment on the Zaka case by the time of writing but an official
at the magistrate's court who spoke on condition of anonymity said cases of
that nature tended to vary depending on their gravity and the level of
recklessness of the driver.
"Each case depends on its own facts. In every case, we
should consider the degree of negligence before passing a judgment," said
the official.
Road safety gospel crusaders Traffic Safety Council of
Zimbabwe (TSCZ) spokesperson, Tatenda Chinoda shared his sentiments on the
issue of justice delivery concerning road carnage saying people should engage
the legislature in their quest for justice over road carnage.
"There is nothing wrong if the judiciary is
implementing the laws of the State. What could be wrong is the level of fines
which are gazetted against serious road traffic offenses. In this new
dispensation why can't we lobby our parliament to do an upward review of all
traffic offenses and their penalties so that we have very punitive measures
against offending road users?" said Chinoda.
He also urged people to rise up and speak with one voice
so that there is an upward review of the legal framework concerning issues to
do with traffic offenses and penalties so that they become stiffer and punitive
for any perpetrator.
"As a nation people must speak on the need to review
road traffic offenses and penalties to make sure that they are punitive. This
would also make sure that such serious offenses like driving without a license
should attract a custodial sentence. The judiciary simply speaks to the legal
framework because we have the rule of law," said Chinoda.