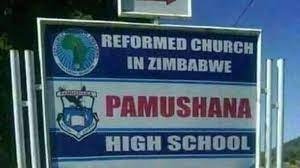 Believe Mpofu
Pamushana
High School is basking in the Zimsec November 2020 'A' Level glory after five
pupils scored 25 points while 103 others take home at least 15 points or
better.
A
total of 182 candidates at Pamushana High School sat for the November 2020 'A'
Level Zimsec examinations and results show that not even Covid-19 could stop
the pupils from excelling to greater heights.
Schools
have been on a long sabbatical due to the Covid-19 pandemic which plunged the
country into various stages of national lockdowns.
Five
pupils namely Enias Chiverengo, Panashe Mhonde, Danaishe Mupopa, Sabail Chinganga
and Blessed Muvindi scooped a whopping 25 points each.
84 pupils scored 15 points and above with 23
of them having 20 points and above while 160 scored 10 points and above.
Pure
Maths had the highest number of As with 30, a B and 1C, followed by Statistics with 19 As and 8 Bs then Chemistry with 16As,
7Bs and 4cs.
The
new school Head Agrippa Moyo who took over from Raymond Ndega said he was
impressed by the results and vowed to keep the standard high.
"I
am happy with the results, our pupils and staff have showed that hard work pays.
We have to continue working hard and maintain the bar that has been set," said
Moyo.
Pamushana
has been dominating not only in academia but also in other disciplines like
sport and has won several accolades at both provincial and national levels.
Moyo
said they have highly qualified and trained staff who invest in making the best
even out of average pupils.