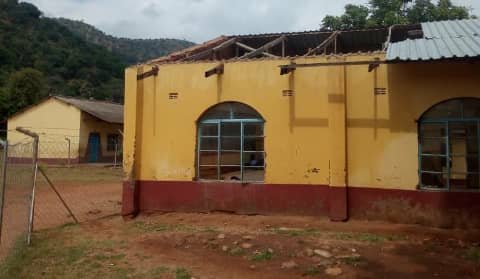 CHIPINGE –
The Zimbabwe Cyclone Relief Go Fund Me recently
came to the aid of Rimbi Primary School by providing roofing and other
materials needed for repairs on a classroom block damaged by Cyclone Idai.
The
work was completed in 12 days at a cost of around $4000.
Speaking
to TellZim News, Rimbi Primary head, Tangirai Simango thanked the relief fund
for the assistance, saying the school could never have afforded to do the work
on its own.
"We
are thankful to those private citizens who mobilised funding and responded to
our cry for help. We had a whole block whose roof was blown away. The block has
now been restored to good condition.
"We
are still appealing for more donations because we have three houses for our
teachers and a hall where our ECD attend lessons which were destroyed by the
strong winds of the cyclone," said Simango.
A
local resident, Anesu Mlambo said though the area did not record as much human
life losses as Chimanimani district, many schools, shops and clinics had been
affected, with villagers losing their crops.
"People's
lives were spared but we are now poorer. Many public facilities were razed down
and we do not have food.
"Our
crops were destroyed by strong winds and we appeal for help as we no longer
have the means to fend for ourselves," said Mlambo.
The
money was raised through an online aid mobilisation platform called GoFundMe.
USA-based
Zimbabwean citizen, Freeman Chari, a biomedical scientist and software engineer,
came up with the idea which ended up raising tens of thousands of dollars for
relief effort.
Work
is also being done at Ngangu Primary School in Chimanimani district.