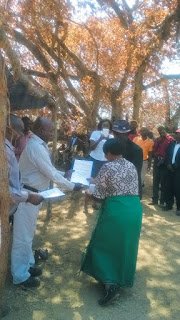 Zvishavane
– Rupemba Primary School hosted the Veterinary Farmer Graduation which saw twenty farmers from Rupemba graduating after finishing a Veterinary course. The course was meant to increase cattle farming at Rupemba.
The training programme, which was spearheaded by Vengai Nkomo, saw 20 villagers handed over certificates upon completion.
Mberengwa District Veterinary Officer (DVO) Dr Claudius Maguranyanga applauded the work done by the Livestock District Committees within Rupemba village whom he credited for carrying out all veterinary works in their community responsibly.
"I want to express gratitude to the Livestock Veterinary Committees for committing unto all veterinary business in Rupemba, they are the ones who collect dipping fees and they do other duties for free," said Maguranyanga.
Uzia Hove from the veterinary department challenged farmers to venture into cattle rearing and imparted some skills to the Rupemba villagers for them to be able to increase production.
The graduates were issued certificates with outstanding students walking away with prizes. Kennedy Mhlanga received wheelbarrow for being the best student while Active Dhliwayo, Macdonald Zhou and Sikhonzile Sibanda went back home with knapsack sprayers each. Tapiwa Dube, Fadzai Mumvuri and Bonface Hove received 100ml bottle of drastic deadline medicine each.
Charles Shava the owner of Bedford Blue 1 Mine promised the farmers that the he was going to help them financially whenever there would be need to do so.news