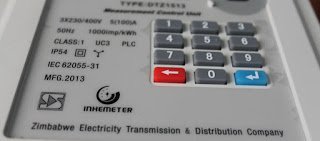 Lloyd Shunje/
Vimbai Gwatiringa
Rupike Irrigation Scheme in Masvingo South has proposed that the Zimbabwe Electricity and Transmission Distribution Company (ZETDC), a subsidiary of ZESA, introduce prepaid meters at the scheme to enable farmers to better manage their power usage.
The irrigation scheme, which draws its water from Tugwane Dam, accommodates 200 families, with each farmer paying a substantial amount in electricity bills every month.
Chairperson of the scheme, Luke Chawatama said they have since asked ZESA to install the metres because farmers are finding it hard to cope with exorbitant electricity charges.
"With prepaid metres, we will be in a position to manage usage better and we will be able to save power and channel the money to other projects.
"We have three water pumps that draw water from the dam. Those pumps need to be serviced so we can't spend all that we make on electricity alone," added Chawatama, hinting that the community doubts the accuracy of current metre readings.
Mike Chiwawa, Rupike irrigation Scheme resident Agricultural Extension Officer said if the dam level does not improve, the scheme will have no choice but to cut back production and focus on crops that do not require a lot of water.
"The dam is 37 percent full and if it remains like that, we will have to concentrate on crops that require less water because we need to save water for the winter cropping season as well," Chiwawa said.
Shallow-rooted crops like beans require less water than deep rooted ones such as maize.news
—
Tel : +263 39 262 401

He who said it can not be done must not disturb the one doing it!