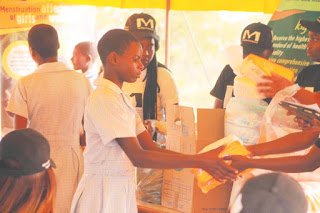 Darlington Kanyongo
ZVISHAVANE – Female learners at the council-owned George Chipadza Secondary School recently received a donation of sanitary wear from the Helper International Club on October 25.
The club donated 200 sanitary pads to pupils in forms one and two on October 25.
Helper International Club president Prosper Mukombami told TellZim News that the school was identified by Bethany Project, a community-based organisation which works with the less privileged.
The school was chosen because it accommodates a large population of less privileged pupils who struggle to get basic needs.
"We have realised that urban poverty is an issue affecting many girls, with parents not affording to provide their children with proper sanitary wear. There are statistics that only two out of 10 pupils can afford proper sanitary wear, and the rest use such things as toilet rolls or newspapers. It is this reality that has spurred us to do something for the children," Mukombami said.
The beneficiaries spoke on how the recent price increases had forced them to improvise odd ways of meeting the demands of their periods.
"Sanitary pads are now unaffordable and we end up using newspapers and tissues, or we tear pages from our exercise books or pieces of clothing," said one pupil.
Tatenda Rukanda from Bethany Project demonstrated how to use the pads and spoke on the dangers of using tissues, newspapers and pieces of clothing as sanitary wear.
"When you are using a piece of cloth, it is advisable that the cloth should be super clean and ironed before use," she said.
Tendai Museva, a health officer at George Chipadza, thanked the club for helping the school with the provisions.
"I really appreciate what the club has done today. I do hope that they will keep on doing the good work. The school has been providing the sanitary wear but is was now struggling as the price of the commodity has been rising non-stop," she said.