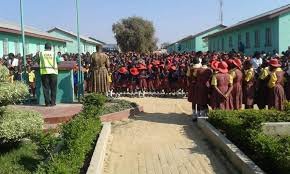 Shakashe Primary School
Ruvarashe
Chichera
At least 145 bags of
maize which came through the Ministry of Public Service, Labour and Social
Welfare

for the school feeding programme
at Shakashe Primary has disappeared with no clear explanation from the school
authorities, TellZim News can report.
It is alleged that the
school authorities including the school head and School Development Committee
(SDC) were overseeing the feeding programme.
Sources who spoke to
TellZim News alleged that the school head was responsible and is better
positioned to give answers about what really happened.
"School authorities are
responsible for everyuthing which comes in and goes out of the school. He
(school head Alexander Mashenjere) oversees all operations at the school so he
should tell you where those bags have gone," said a source.
Contacted for comment,
school head Mashenjere confirmed the development and said the relevant ministry
was working hand in hand-in-glove with the police to get finer details of what
transpired.
"Yes it is true, the
Ministry of Education and the police are undertaking investigations. Please
don't publish the story because the Ministry of Social Welfare gave a directive
that we mustn't talk to the press so that the investigations go on smoothly,"
said Mashenjere.
SDC chairperson, Benny
Gudo also confirmed the theft saying the matter was reported at Rujeko Police
Station and investigations are underway.
"We can't talk over the
phone because it's an issue which is under investigation. We reported the
matter to the police and we are waiting for their feedback," said Gudo.
Ministry of Public
Service, Labour and Social Welfare has been giving maize to poor primary
schools across the country for the feeding program.