Tell Reporter
Three traffic officers from Zaka police station were arrested over the weekend after they were caught red handed demanding bribes from motorists.
The three (names supplied) are appearing before disciplinary hearing in Bikita today.
Sources told Tell Zimbabwe that the trio who were at Chivamba roadblock – some 87 kms along Jerera – Chiredzi highway demanded a $7 bribe from a motorists. The motorist who did not have the money decided to remain at the roadblock for 30 minutes thereby denying the officers a chance to hide their loot.
While still at the roadblock, officer from internal police intelligence and contacted a spot check and they were found with US$ 84 which they failed to account for. A motorist who was still at the roadblock narrated how the three were demanding bribes leading to their arrest.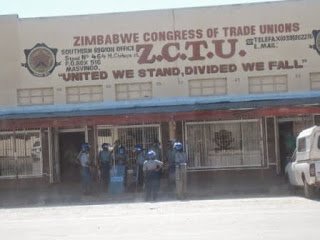 File photo …Officers who dispersed members of Masvingo Residents Trust who wanted to stage a demonstration in Masvingo recently.
"The three were found red handed and they were immediately arrested. They are supposed to court to our internal court in Bikita East today," said a source at Zaka police station.
Efforts to get comment from Masvingo police spokesperson were fruitless.local