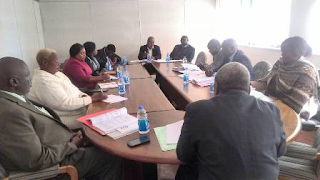 GWERU –
The local chapter of Woman Coalition of Zimbabwe, (WCoZ) last week tabled a list of service delivery grievances that it said should be urgently attended to by Gweru City Council if imminent serious health problems are to be prevented.
Speaking at a meeting held with council officials at Town House, WCoZ director of finance, Edgar Mwedzi pointed out many service delivery shortcomings including erratic water supplies, saying urgent measures had to be taken to address the crisis.
"Erratic water provision is a big problem. Discussions we have held with residents revealed that most tapes are dry during the day, with water coming only around midnight every day. The quality is also deplorable as the water is rusty in colour and has flying objects.
"Some households have dug unprotected wells that pose serious health challenges as the water is not treated and the wells are also a breeding ground for mosquitoes. There have been reported cases of young children losing their lives after falling into the unprotected wells," said Mwedzi.
The organisation also called for a more regular collection of refuse to stop the sprouting of undesignated dumpsites.
"Council has been failing to collect refuse as often as it should. This has led to a sprouting of undesignated dumpsites in the city's high density areas of Mkoba, Ascot, Mambo, Mutapa and Senga.
"Besides being an eyesore, the dumpsites are also a potential source of such diseases as malaria as well as other water and airborne diseases caused by mosquitoes and houseflies. The undesignated dumpsites also contribute to the blockage of drainage systems in the city," said Mwedzi.
City of Gweru director of health services,
Wilson Chivasa said council was well-aware that most households had no bins and that most residents were failing to separate waste from source.
"We are aware that most residents have no bins and they are failing to properly manage waste disposal. On fears of a malarial outbreak – Gweru is a non-malaria zone. We, however, have a rapid response team which is always ready to investigate any cases of possible disease outbreaks," Chivasa said.
He appealed for the coalition to help educate people on waste management and water conservation
.local