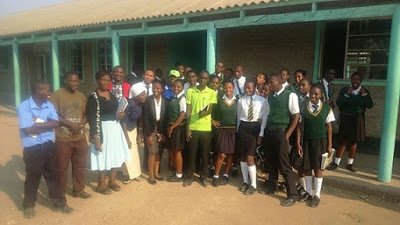 For Masvingo Christian College, the philosophy of giving
every child the chance to explore their potential is what drives the school's
growth in leaps and bounds each year.
Masvingo Christian College head Edison Muresherwa believes
that every child, if given the chance to prove themselves, has potential to do
something that can help them make living regardless of how many units they may
have obtained at grade seven.
While a lot of secondary schools are on a helter-skelter to enroll
only the straight A pupils, Muresherwa's mission is to afford every child the
chance to go through secondary education. This has accorded study opportunities
to may pupils who face rejection elsewhere.
"We are not trying to make names out of pupils. We want them
to make names out of us, that is why we do not screen them at enrollment but we
still achieve competitive results.
"If one of our learners one day points at Masvingo Christian College
and say, 'Had it not been for this school I wouldn't have been given a chance
to prove myself', we would have done our job," Muresherwa said.
Muresherwa says the various technical and agricultural
projects undertaken at the school constituted efforts to give every pupil a
chance to explore their capabilities from a wider pool of offerings.
Practical skills that pupils can learn include fisheries,
piggery and growing vegetables.
"We have various projects that we keep developing at the
school, and our vision is to see every child gaining skills that will help them
in the future. We equally value academic excellence as much as we value
technical expertise in our learners.
"We also do the hard sciences and I can safely tell you that
we have a remarkable number of doctors and engineers who did their 'A' level
here. This year, we have already enrolled 50 science pupils in lower six,"
Muresherwa said.
Mashoko Christian Schools chairperson Zebedee Togarepi echoed
the same sentiments saying the major development any school could do for the
community was to include every child.
"We do not have cut-off units for form ones and we try to
give every pupil a chance at 'A' level. Nonetheless, our results have proved us
right, that every child, if given the chance, can excel.
"As a Christian school, we give learners a chance to choose
for themselves if they want to lead a Christian life or not. Our duty is to
lead exemplary lives to influence them, but the choice solely lies with them,"
Togarepi said.
Togarepi, who started off at Masvingo Christian College as a
student back in 1970 when it was still a Bible college, said it would have been
a wild dream back then to imagine him as chairperson of the responsible
authority of a group of Christian schools.
He said his current position was a result of him being given
a chance when he could otherwise have been discriminated against.
Masvingo Christian College recently installed a solar system
at the school and is already pumping its own water for practical learning
purposes.
The school also has a biogas plant where pig waste is used to
produce biogas that is used mainly in science labs and in the home economics
department.