… until council becomes organised
Vendors in Masvingo have vowed never to vacate the Central Business District to honour government June 26 ultimatum saying council should first develop the proposed new market site near the Dr Grace Trade Centre popularly known as Chitima Market.
Chaos loomed at the site Friday morning as vendors demanded answers from council officials over the development of stalls, after which the officials fled the scene as the situation got tense.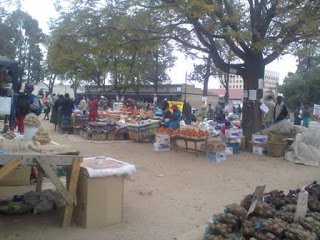 Vendors were still selling their wares in city center
Scores of vendors almost caused mayhem at the market site, with some shouting that they were not moving from the streets until toilets and a security fence have been built for their service at the site.
Masvingo Informal Traders Association (MITA) president Gilbert Chikwata had to call for calmness from the crowd, telling people to exercise patience as the director of Housing responsible for the allocation was said to be in a meeting, a call which was met with more resistance from the crowd.
"Let us respect the leadership here; the allocation will be done after the meeting, our council officials have gone back to call the Director of Housing whom l heard is in a meeting at the moment", said Chikwata.
A vendor only identified as Gidza said, vendors were ready to vacate the streets only if the council could be more organised and ensure proper sanity at the new market place, also making sure that the place was going to accommodate all the vendors in the streets.
"The place is not even fenced, there are no toilets at the moment, and it will become a health threat to all of us, because the place cannot even accommodate all the people. We cannot spend the whole day standing here because we depend on vending, so we are going back in the streets," said Gidza.
Masvingo city Mayor Hubert Fidze said officials from the council were going to deal with the issue.
"Nothing has changed, everything will go on as we discussed yesterday in that meeting (informal trade dialogue meeting), our officials will come to the site. It's still morning, we have the whole day, definitely they will come", said Fidze.local