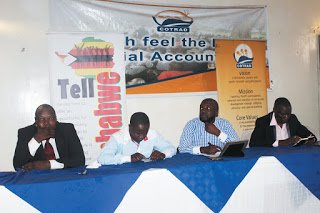 Panellists during the public dialogue from left…Job Sikhala, Jacob Mafume, Dr Paul Chimedza and Jealousy Mawarire
Moses Ziyambi
10 Feb 2017 – Last week Friday, February 3, 2017, TellZim News and the Community Tolerance and Reconciliation and Development organisation (Cotrad) hosted a public dialogue at Chevron Hotel in Masvingo.
Running under the topic From 2017 by-elections in Bikita West and the upcoming Mwenezi East towards 2018 elections: Has anything changed?, the dialogue had Dr Paul Chimedza of Zanu PF, Jealousy Mawarire of ZimPF, Job Sikhala of MDC-T and Jacob Mafume of PDP as panellists.
Below is the synopsis of what each of the panellists said during the dialogue.
Dr Paul Chimedza – The Gutu South legislator's message centred mainly on how a party can earn the right to lead the country: contest the elections and win.
"As a party, we are serious about the business of winning elections, and we are serious about the business of getting in power and staying in power because that's the core business of any political power. In Zanu PF, nothing has changed. We won in Bikita, we are preparing for Mwenezi; we are going to win in Mwenezi, and we are preparing for 2018; and we are going to win again in 2018. So this is what we do in Zanu PF. It is very clear that Zanu PF is serious about staying in power and about elections – we take elections very seriously.
"Some people were saying now we know how Zanu PF rigs….and in Bikita, if they really knew how the rigging takes place as they claim, why didn't they win? We walloped them.
"It is a fact that no politician in this country whether in Zanu PF or in the opposition, can connect with the people more than President Mugabe. That's why they don't want to face him in elections, but they want to use other means; unconstitutional means.
"Hanzi tourawa. Ko muri vapenyu wani. Makadii kufa? MDC won an election, it had the majority in 2008. In the same conditions, they won an election and they had a majority in parliament and we put our act together, came back and worked harder and slashed them in 2013."
He also took time to mock the opposition for its seeming obsession with the fitness of President Mugabe to hold office.
"What is interesting here, the elephant in the house, is people telling Zanu PF how to run its party; the narrative about President Mugabe this, President Mugabe that. Imimi kaa, kana maita munhu amunofunga kuti is not electable it's an advantage to you. Use it instead of telling us which president we should put which president we should remove. An electoral democracy is not about age. President Mugabe is there because he resoundingly got the mandate in 2013," said Dr Cimedza.
Jacob Mafume – The words of national spokesperson of the People Democratic Party (PDP) found resonance with those of Mawarire.
Mafume emphasised that contestations for political power must not be sorely about a chance for politicians to greedily tuck their snouts into the feeding trough, but must be about serving the people and making Zimbabwe an open society.
"Democracy is not about getting into office and staying there until you drop dead."
It was not a question that the country had entered a transitional phase but what remains open, he said, is the direction that the transition will take as there still lingers the danger of the country transiting into yet another tyranny hence the need for the people to make sure that the country is steered onto the right transitory path.
"We need not lose this opportunity that we are getting now – Zimbabwe is in a transition, whether it's transiting to Mnangagwa, whether it's transiting to the opposition, whether it's transiting to somebody else. It's transiting, whether it goes to G40 or it goes to anyone else. What we need is not necessarily to worry, at most times, about who will get power. Sometimes we need to worry about how we live when whoever gets power."
He made it clear PDP leader, Tendai Biti had the utmost respect for Tsvangirai, whom he credited for an impressive record working for the country since his days in the labour movement.
Mafume also said PDP was solidly behind efforts to present a united front against Zanu PF through a grand coalition of opposition parties as the country wades into barely charted transitional waters.
"We are part of the negotiations formally and informally and some issues will progress fast while others will progress slowly but as a matter of principle, it is there.
"A lot of things need to be changed in our society Zimbabwe; traditional leaders, the army, the police – you know the police are called the Zimbabwe Revenue Police now, they just collect money for a living and they no longer arrest thieves. So a lot of things have to transit," said Mafume.
Jealousy Mawarire – The People First (ZimPF) national spokesperson said 'winning elections at all cost' was the epitome of Zanu PF's approach to State power and pointed out that ZimPF was not in it merely for power, but to transform Zimbabwe.
"Ndakachema kuti a whole president wekuUganda hanzi 'I am not your servant. If you think you gave me a job you are deceiving yourself. I am not anyone's employee.' A whole president who was voted by the people? This is the same mentality inana Dr Chimedza. Yekuti isu tongohwinha maelections chete hatina basa nekuti maelections acho tahwinha tadzinganisa vanhu vaenda kuSouth Africa, tadzinganisa vanhu vaenda kuUK, tadzinganisa vana vashambira vamwe vashambira vachidyiwa nengwena. Hatizivi kuti ngwena dzacho ndivana Mnangagwa here dzinenge dzichidya muna Limpopo. No we are not going to do that.
"We want a leadership that has people at heart. That's why we say we are People First. That's why we say we are national democrats. That's why we say we are here to change things in Zimbabwe, to create equal opportunities for everyone."
Mawarire also assured Zimbabweans that the mooted grand opposition coalition to defeat Zanu PF at the 2018 elections "is there."
"Fundamentally we believe that the coalition will quantify votes against Zanu PF, and the coalition also will help us to harness the different craft competencies from among our people so that when we form a new government, we have a government that has different competencies and we exploit on those competencies to turn around the economy of the country.
"So the coalition is there, and we are going to field a single presidential candidate and the other modalities about constituency representatives are still being negotiated and at the right time, we are going to tell you how we are going to handle the idea of the different electoral constituencies that we have in terms of representation," said Mawarire.
Job 'Wiwa' Sikhala – The MDC-T National Executive member was full of praise for his boss Morgan Tsvingirai and expressed optimism that opposition will find each other and form a united front against Zanu PF.
"What we know is that the authority to negotiate the issue of a coalition, we gave it to our President, Dr Morgan Tsvangirai, for him to find political organisations that he thinks add value to the Zimbabwean project; to make sure that Zimbabwe becomes an open society like what Jacob Mafume just recently said."
He encouraged people to develop strategies of defiance against Zanu PF even when subjected to the most coercive measures, and he praised the people of Matabeleland for being consistent in defying Mugabe even in face of great persecution.
"We all need to grow the Ndebele mentality whereby from 1980-1987, when Mugabe was killing them and throwing them into mine shafts in their thousands, they went and attended Mugabe's rallies but come election time, they were always defeated in Matabeleland. Joshua Nkomo entered into the Unity Accord in 1987 when Robert Mugabe was losing Matabeleland home and away. So that is one mentality that we will build into Zimbabweans; that go and pretend to be with them, but your heart must be able to speak."
Sikhala also deflected criticism against attempts to forge ahead with an alliance of opposition parties, saying misgivings being raised on the inclusion of former Zanu PF members were misplaced.
"There is no reason whatsoever why the people of Zimbabwe cannot believe that the people in People First have been exorcised of the Zanu PF demon, that they are also now interested to work for the common good of the people of Zimbabwe," said Sikhala.news