Clayton Shereni
NYANGA- It has never been all rosy for teen superstar, Makanaka Mawere who only had less than 90 days to recover from a career threatening injury that she suffered in Egypt in June as she defied the odds at the just ended Bonaqua Africa Triathlon Cup (ATU) in Nyanga, Troutbeck.
Born in 2004, the 17 year old Hellenic High pupil is a rare gem and if her current exploits are anything to go by, the young girl will surely conquer the world.
Mawere also a professional tennis ace went into this year's 14th edition of the prestigious African showpiece that attracted triathletes from as far as Luxemburg with a mountain to climb as she was not fully fit.
The lanky athlete who raced in a star-studded lineup against some higher-ranked triathletes got a major boost of his career when he finished third settling for a bronze medal in the junior elite competition.
She finished behind South Africa's Kira Ribbink who successfully defended her title while Anika Visser also from across the Limpopo finished second.
Mawere had a great start in the water but had a hard time on the track before she made use of her prowess on the bicycle.
On the clock she finished in 1hr27min31sec slightly one minute below her 2020 record of 1hr28min33sec that saw her occupy seventh position.
With a world ranking of 489, continental ranking of 19 and continental junior ranking of 5, Mawere still has age on her side to do better and add to her three podium finishes.
For the young woman who went into the competition carrying hopes of every Zimbabwean triathlon fan, the contest was a memorable one that made her go an extra mile to make her country proud.
"It was a tough race but I had to be mentally strong and keep telling myself not to give up. Otherwise I really enjoyed the race, it is challenging but fun and with everyone cheering it was a great race all together. I did exceed my own expectations," said Mawere.
Although so many young teenage athletes shun the sport, Mawere took time to appeal to fellow teenagers to take up the sport, display talent and prove their menthol.
"I would say to other teenagers know yourself and be really honest with yourself and know where you think you could be good as a sports person. They should explore new things because you never know what you might succeed in. Explore outside your comfort zone," added Mawere.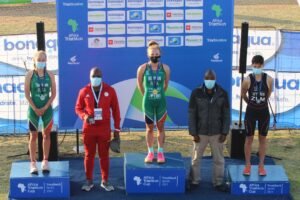 However, on the other end of Elite women, it was 45 year-old Wynn Greer who proved that she still has something in her arsenal after finishing third behind Hannah Newman and Bridget Theunissen who finished first and second respectively.
Greer who was a major doubt for many due to her old age shocked triathlon enthusiasts with her consistency and endurance that lasted her till she reached the finishing line.
In 2006, Greer finished fourth on 2hr41min34sec but this time around she came back strong, fit and hungry for the title claiming the bronze medal with 1hr21min59sec on the clock.
Speaking to the media after the race, Greer said she had to force herself to finish the race to make her country proud although she was not fit for the race.
"I made the best of what I could, given what I started with. I would say half a tank because I did not have a full tank. I pulled through because my mission was to raise Zimbabwe's flag high. It is an amazing feeling to have raced elite and for Zimbabwe," said Greer.
Commenting on her age, she said that age was not a big deal but one's ability matters the most when it comes to sport.
"It is not just about age but ability. I do not see age but I see what one has got on the start line but as of what is next, I think I am going to focus on cycling because that is where I would shine," added Greer.
Despite most sporting disciplines in the country being male dominated, women have been urged to take sport seriously and break gender barriers.
Mawere and Greer's performances come at a time when calls have been made for enforcement of the dictates of the Zimbabwe constitution that states that 'the state shall promote the full participation of women in all spheres of Zimbabwean society on the basis of equality.