ZAKA
– As the economic situation continue to worsen juxtaposed with the striking hunger, Zaka hookers recently demonstrated at CARE International offices in the district for porridge and cooking oil given by the organisation under the Enhancing Nutrition, Stepping Up Resilience Enterprise (ENSURE) program to children under the age of five and pregnant women, Tell Zimbabwe can reveal.
Sources said the sex workers who are commonly known as ZviTokwe Mkosi referring to their place of origin – Tokwe Mkosi –

have become a problem at the Growth Point. The young ladies left Tokwe -Mkosi in search of a living after government failed to resuscitate them after floods which were declared national disaster two years ago.
CARE International provincial head, Abel Hwande said he was not aware of the development since he was in Buluwayo. He however explained that his organisation only distributes food aid as they would have agreed with government in memorandums they sign.
"I am not yet informed of the situation since I am not in town. The fact however, is that we work under memorandums that we sign with the government.
"The commercial sex workers in question would be welcome for aid if they are directed to us through the social welfare or relevant government institutions. The fact that they are coming

from the Tokwe – Mkosi further makes their situation difficult because prospective beneficiaries from Zaka would have quickly visited our information desk to be signed up for aid quickly," said Hwande.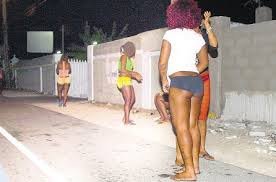 File picture
It has also been reported that chiefs and councillors complained on how CARE distribute food aid saying most communities were neglected though they suffered intense hunger just like the receiving wards. Zaka has 34 wards and only eight (8) districts are getting food aid from CARE.
Zaka Rural District Council Chairperson Charles Musundire confirmed the incident though he said the District Administrator was in a better position to comment on the current development of the case since all was handed over to him.
"Councillors really felt that CARE should decentralise food aid but I cannot comment now since we handed over our petition to the DA and have no feedback to disclose much pertaining the issue," said Musundire.
Meanwhile, six more flesh peddlers have since been dragged to court for stripping naked in front of Zaka police officers in protest of being arrested after being caught fighting.
Among them were two only identified as Privy and Melody and are said to be part of the many unidentified ZviTokwe – Mkosi. They appeared before Zaka magistrate wrapped in linen cloth fetched from the police as their clothes were left at the crime scene.
Most of the sex workers are suspected to be below the age of 18.local