MASVINGO
– Minister for Provincial affairs for Masvingo, Shuvai Mahofa (74) who replaced Kudakwashe Bhasikiti (54) shocked hundreds of people at Nemanwa Growth Point recently when she confessed that Zanu PF is being run by too old people.
Mahofa made stunning revelations while addressing people at a farewell party for the former Masvingo Rural District Council (RDC) chief executive officer Clemence Makwarimba on Friday.
She said her ascendancy to a ministerial post had nothing to do with her educational qualifications.
"Zanu PF and government yava kutongwa nechembere dzakaita sesu vana Mahofa (Zanu PF and the government is now being led by old people like me). I am not learned but politics has nothing to do with education but loyalty. I want to tip those youths who wish to be leaders one day to remain faithful to the aged leaders," said Mahofa.
As if she was confirming that only old people will continue to be appointed in government, Mahofa said Makwarimba is going to get a top government post.
"I want to thank you Makwaramba for remaining faithful to the party, you will be surely rewarded. We are going to politburo meeting next week where we are going to fire more people and people like Makwarimba will replace them," she added.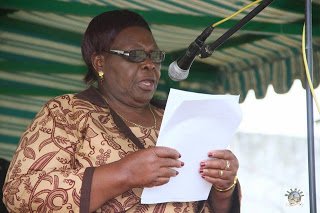 Shuvai Mahofa who recently failed to read Independence speech fluently
The country's economy has continued to take a nose dive since the July 31, 2013, harmonized elections and Zanu PF has been accused of appointing too old people in government who no longer have the energy and new ideas to bring development.
The majority of government ministers are over 70 years of age. About 17 youthful ministers were, however, expelled from government recently for allegedly being aligned to the former Vice President Joice Mujuru.
When Mahofa became Minister for Masvingo Provincial Affairs, she immediately moved her office from the second to the ground floor because she could not climb the stairs owing old age.
Government incurred unplanned costs to renovate the new office while civil servants are now inconvenienced as the office of the Provincial Administrator (PA) is now a distance from the Minister of State's office.politics