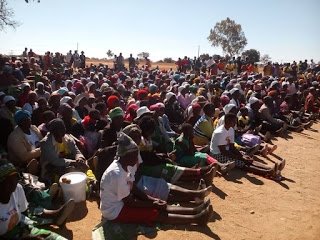 Upenyu
Chaota
Zanu PF has continued to prove their dominance in the
rural areas after retaining the Masvingo North's Ward 1 seat in a local
authority by-election held last Saturday.
The Masvingo North local authority by-election was
held on the same day with two national assembly by-elections in Mangwe and Glen
View South.
Zanu PF won both rural by-elections of Mangwe and Ward
1 but lost in the urban Glen View South.
In Ward 1, two
candidates from Zanu PF and MDC battled it out with the former emerging
victorious by a big margin from the little votes cast.
Zanu PF's Richard Kudakwashe Murambiwa polled 1 166
votes against MDC's Escot Chawatama paltry 334.
Zec Masvingo provincial election officer Zex Pudurai
said the election was held in a peaceful environment and all the nine polling
stations opened in time.
"The environment was peaceful and as Zec we were ready
for the elections. We had a total of nine polling stations and all opened by
7am," said Pudurai.
Pudurai said they were gearing up for the Zaka East
national assembly by-election which is slated for September 21.
"We have a national assembly by-election in Zaka East
on September 21 and we are working towards that now," said Pudurai.
Zanu PF Masvingo provincial political commissar Jevas
Masosota said their party's victory shows that people had confidence in Zanu PF
and President Emmerson Mnangagwa's leadership.
"Zanu PF is the popular party and our people know
that. They will not be fooled by these other political parties because they
know who has their best interests at heart.
"Other political parties will just be wasting their
time contesting Zanu PF because they know they have nothing to offer to the
people. Zanu PF ndeye chitenderano and our people keep showing that they will
stand with their party," said Masosota.
Masosota said they are now focusing on retaining Zaka
East which fell vacant after the former legislator Katson Gumbwanda died in
June.
"Our sights are now set on retaining Zaka East. We
have promised President Mnangagwa that we are bringing the seat home and that
is what we are going to do. We have a good candidate in Clemence Chiduwa and
the people are standing firmly behind him.
"Nothing is going to stop Chiduwa from winning this
seat for Zanu PF," said Masosota.
Masosota said they were expecting Vice President Kembo
Mohadi to come and address a rally in Zaka East on September 18.
Chiduwa will go toe to toe with MDC's Derick Charamba,
NCA's Clemence Chavarika and FreeZim Congress' Lazarus Mubango.