By Moses Ziyambi in Jo'burg
Hundreds of Zimbabwean immigrants housed at the Central Methodist Church in Johannesburg are living in suspense following the lapsing of the December 31 2014 deadline of a directive to vacate the building.
The building has been sheltering desperate Zimbabwean refugees and asylum seekers for the past fourteen years.
Several refugees who spoke to Tell Zimbabwe said they did not have anywhere to go as they were homeless and unemployed.
"We have been told to leave but we don't have else to go. For some of us, this church has been our only home for the past ten years," said John Rutete.
He also said that some of his friends have already left the place although they did not have any definite place to go.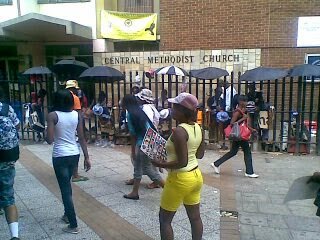 Central Methodist Church in Jo'burg
"We are living in suspense because we have been told that force will be used to eject those who fail to meet the deadline," he said. "The deadline has already passed and we don't know what will happen."
Other immigrants, however, vowed to stay put, saying they will not accept being chucked into the streets.
"If they don't provide alternative accommodation, I won't go anywhere. They failed to evict us in 2010 and they will fail again this time around," said another immigrant who requested anonymity.
Under the stewardship of Paul Verryn, the church has provided sanctuary to thousands of mainly Zimbabwean homeless immigrants over the years.
Verryn, who has earned himself enemies in his church for housing the immigrants, is set to be promoted and transferred to a different circuit. Church trustees have ordered that when he leaves, the building can also be restored to its primary purpose of housing worshipers.
"Many have already left the building and others are in the process of leaving," a dejected Verryn told Tell Zimbabwe, imploring well-wishers to come on board and assist.
"It has not been an easy journey for me. I hope it's not going to be a helpless situation for the people," he added.
Previous attempts to evict the immigrants through the courts have been strongly resisted by Verryn, who argued that it was inhuman to throw poor people into the streets.Local