Tell Reporter
There was pandemonium in Zimhofu village under Chief Ndanga in Zaka when villagers woke up to see over 30 pythons coming out of a grave last week.
Over 40 people from Zimhofu village and surrounding areas who were visibly shaken were still at the scene when Tell Zimbabwe reporters arrived on Sunday. Officials from Parks and Wildlife Management were called but they only managed to capture 20 small pythons as their efforts to capture all the snakes were hampered by heavy rains.
Village head Jeremiah Matumbike(center) is still in shock
Zimhofu village head Jeremiah Matumbike told Tell Zimbabwe that he was in shock since it was his first time to encounter such a situation. He said he was in a process of identifying people who are related to the person buried in that grave.
"I am shocked by this incident…it all started as a fairytale when people told me that there were about 10 pythons at a grave in my village. However, when we came here on Wednesday, we discovered that in fact the pythons were more than 30.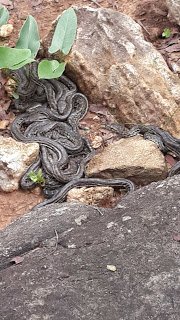 Some of the small pythons which came out of the grave
"Everyone is in shock and I am now in a process of identifying people who might be related to the person buried in this grave," said Matumbike.
Matumbike said he could not rule out that there could be something mysterious behind the coming out of the pythons.
"We have never seen not even one python here so where are these ones coming from… I think this is mysterious and the relatives of the person buried here will assist us in mapping the way forward," said Matumbike.
Officials from Parks could not be drawn into commenting.
Chief Ndanga said he was aware of the incident. Local.