Exsto Makunzva

in Zvishavane
Teachers from Bilashaba Primary School in Zvishavane district have gone for nine months without clean source of water thereby leaving them without an option besides walking for about two kilometers to a nearby river where they fetch water for daily consumption, TellZim News can reveal.
TellZim News
crew has been informed that the river which had become an oasis of hope has since dried up and the teachers together with villagers from the surrounding five villages are now walking an extra kilometer to a nearby dam where they get raw water for drinking thereby exposing them to water borne diseases.
The dam has also become the only source of water for cattle and wild animals.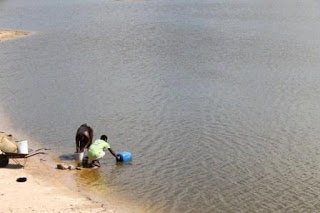 According to teachers who refused to be named, taps at the school went dry in March this year leaving them walking to the nearest borehole which immediately dried up due to high numbers of people getting water from it.
"Getting water from that borehole is now very difficult because you need more than 20 minutes to fill a 20 litre bucket. The borehole was not serviced for a long time now and we are left without an option besides going for open sources of water," said the teacher.
Another teacher said they were resorting to using water guard before using the water for bathing because it is salty.
Some teachers go to Zvishavane town about 10 kilometers away where they buy clean water for drinking.
The school headmaster Mr Chipato refused to comment saying that he was not allowed to speak to the press.
However, Mrs Mapfumo who leaves nearby said they are now very much used to living in those conditions.