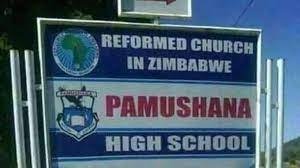 Pamushana High continues to shine
bright in academics, with the school recording a clear 90 percent pass rate in
the recently-released November 2020 Zimsec 'O' Level results.
More striking perhaps, is the fact
that female candidates performed far much better than their male counterparts.
Pamushana High School head Agrippa Moyo
said he was delighted by the results which he attributed to a culture of
tireless effort.
He said parents were supportive of
the school in a number of ways and that support had resulted in good
performance by pupils and their teachers.
"We are maintaining the standards for
which we have been known as a school of repute. We want to continue shining in
academics and sport as we have been doing for long. The impressive results are
also a result of the support by parents who have never let us down in all our
efforts to be on top," said Moyo
The best five pupils are Munashe
Zimbowa, Tanatswa Tadzimirwa, Tanatswa Mutandavari, Makota Mufaro and Isheanesu
Mupiwa who each managed to obtain 13As.
The English language subject recorded
the highest number of As which totalled 126; 76 of them being by girls.
Geography and Shona recoded 96As,
Statistics 80As, History 79As, Heritage Studies 62As, and Accounting 61 As.
In Mathematics 46As were recorded while
Business Enterprise had 40, Computers recored 36, Chemistry 33 and Commerce 24.
Family and Religious Studies (FRS)
recorded 22As, Food Tech 19, Biology, Agriculture 16As and Physics nine
Wood Technology and Literature in
English recorded 8As and six As respectively.