MASVINGO
– Masvingo deputy Provincial Education Directors (PEDs), Fadzai Jirivengwa and Andrew Chikwange together with their Masvingo District Education Officer (DEO) Zacharia Makopa had a nasty experience at the hands of 38 Mashava teachers who are facing eviction from the AA Mines' houses.
The senior civil servants in the ministry of education had to endure cold weather outside their office at Wigley House from 1700 hours to around 2000hours on Tuesday after they were blocked from leaving their offices.
The teachers were demanding to be given alternative accommodation by their employer.
AA Mines won a court order to evict the 38 teachers from the mine houses at Mashava amid reports that they had resisted paying rentals resulting in their arrears ballooning to amounts between $500 and $800. Affected teachers are from Temeraire, Mashaba and King Mine schools in Mashava.
A representative for the teachers, Nathan Ruzengwe confirmed the development and said they had come to seek alternative accommodation from their employer.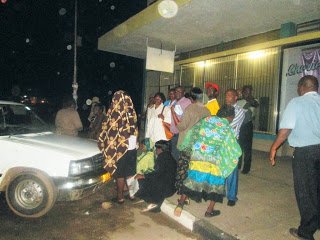 Some of the teachers who blocked deputy PEDs demanding alternative accommodation
"We appealed to the courts after we were served with eviction letters but today we were surprised after our lawyer told us that another eviction order was granted pending appeal. We are left with no option but to come to our employer so that we can have alternative accommodation. We have been servicing the mine schools but now that the mine is no longer working they want to boot us out and lease the houses to institutions which have the capacity to pay more rentals than teachers. We want our bosses to address us because we are stranded," said Ruzengwe.
Makopa declined to comment and referred all questions to his superiors. The deputy PED, Chikwange who was at the scene also declined to comment and referred all questions to the PED, Zedias Chitiga who could not be reached by the time of going to press.
AA Mines is represented by Chuma, Gurajena and Partners.Local