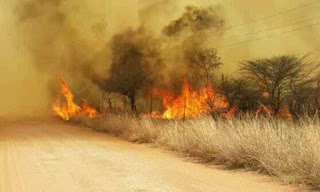 Increase Gumbo
Chiredzi district has been recorded as the district which suffered the highest incidences of wildfires in 2015 after a survey by the Environmental Management Agency (EMA) revealed that more than 50 000 hectares of land was destroyed by fire in the district.
Speaking at a provincial fire week launch held at Magumise Primary School in Ward 32, Provincial Environmental Manager Robson Mavondo said 50 437.61 hectares of land was reported to have been destroyed by fire.
"Magumise area was the most affected," said Mavondo.
He said Masvingo province has so far lost much property this year to raging veld fires.
Masvingo district is second to Chiredzi with some 17 844.25 hectares of land having been destroyed with areas around Great Zimbabwe being affected while Hippo Creek Lodge lost some property in a raging blaze last year.
"Here in Chiredzi sugarcane farmers usually clear their land with open fire which most of the time is left unattended leading to veld fires," said Mavondo.
The EMA survey shows that a total of 75 738.17 hectares of land were destroyed by fire with devastating consequences on vegetation, crops, livestock and wildlife.
Mavondo urged the public to be responsible and mindful in the way they interact with the environment.
He encouraged people to make fireguards on both sides of boundary fences and warned villagers not to use open fires outside their homes during the dry season.
"Let every farmer ensure that their farm is protected by standard 9-metre fire guards on both sides of a boundary fence.
"Starting a fire in the open is a punishable offence which attracts a fine of $3000 or 3 years imprisonment," said Mavondo.
Meanwhile the Ministry of Environment, Water and Climate through the Forestry Commission, EMA, Zimbabwe Parks and Wildlife Management Authority and other stakeholders like the Zimbabwe Republic Police (ZRP) are raising awareness and fighting veld fires while restoring the scorched areas.news
—
Tel : +263 39 262 401

He who said it can not be done must not disturb the one doing it!