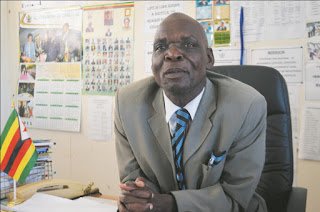 Upenyu Chaota


MASVINGO – Chivi District Administrator (DA), who is also Zanu PF Chivi Central district chairperson, Vafias Hlabati has rallied the people of the district to stand by President Emmerson Mnangagwa, promising to fight and 'banish' all opposition supporters.
Hlabati said it would be abnormal for the people of Chivi to turn their backs on President Mnangagwa whom he claimed to be a child of the district.
Speaking at the Zanu PF victory celebrations in Ward 17 of Chivi Central constituency recently, Hlabati said he was aware of 258 people in the Ward who voted for the MDC and was going to see to it that they will be dealt with by 2023.
"I want to thank the people of Chivi for voting for Zanu PF. You voted Zanu PF from councillors, Members of Parliament and the President.
"I am however disturbed to know that here in Ward 17 there are 258 people who voted for the MDC. We know them and we are going to fight them until they are gone or they join Zanu PF by 2023," said Hlabati.
Hlavati said President Mnangagwa's government was the best and people must give it all the support.
"President Mnangagwa's government is the best. What more can you ask for when you see our President trying to better our lives.
"The people of Chivi, you are blessed to be the district where the President comes from. Everyone should support and defend the President before that is where our future is. If we are going to die doing it then so be it," said Hlabati.
Hlabati, who is no stranger to controversy, once came under fire from the opposition MDC which called for his resignation because of his direct participation in Zanu PF politics.