By Upenyu Chaota/ItaiMuzondo
It is now over one and half years since the saddening Tokwe-Mukosi flood disaster where over 3000 embattled flood victims were affected but the government has not yet managed to raise US$ 8 million needed to compensate the families.
In a statement directed to the minister of Local Government, Urban and Rural Development, Saviour Kasukuwere, Minister of State for Masvingo Provincial Affairs recently, Shuvai Mahofa, noted that the tortoise pace towards resuscitating the flood victims by government has also crippled her plans to relocate the victims who are 'stranded' in Chingwizi.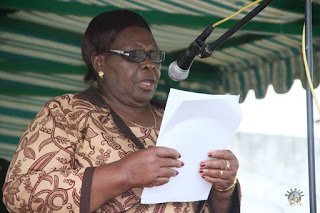 Lets compensate flood victims now —-Shuvai Mahofa
"Government still owes the affected families about $8 million in compensation and we continue to urge government to reduce this debt regularly to give hope to these people.
"The Minister of State for Provincial Affairs wrote to the Minister of Lands in April 2015 seeking authority to relocate the Tokwe-Mukosi flood victims at Chingwizi to other preferred farms north of Runde River. To date no response has been received," reads part of Mahofa's statement.
Mahofa further said that most of the families are anxious to move out of Chingwizi camp before the commencement of this year's farming season.
"Majority of the families have not constructed permanent structures and tents provided during their evacuation are now in a sorry state and may not survive the next rainy season. Government is struggling to feed the families and they would have preferred to be relocated and produce their own food in the alternative farms identified for their relocation," said Mahofa.
Poor conditions in Chingwizi has seen most of the flood victims especially women engaging in prostitution in neighbouring districts to make a living.local