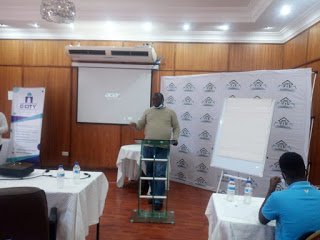 GRF Director ,Charles Mazorodze presenting at the G-city app launch.
Tinaani
Nyabereka
Residents and organisations have welcomed the launch of a
new Gweru (G- City) billing application which was designed to enable effective
billing processes.
The android mobile based application was designed by the
Gweru Residents Forum (GRF) in 2019.
Speaking at the application's appreciation workshop in Gweru
last week, Gweru Residents Forum (GRF) director Charles Mazorodze said the city
council passed a resolution for the Forum to fully implement the use of the new
innovation.
"The G-City innovation was designed by Gweru Residents
Forum as part of efforts to help bridge the gaps within our council billing
systems.
"What made us to come up with this innovation were
complaints by residents on the lack of transparency on their bills as it was
hard to trace records of payments.
"This application came about through an innovation challenge
which we did with our partners GIZ as a call was made for residents
associations and organisations to come up with a solution which could turn
around the challenges affecting residents.
"Last week we got a resolution from the council
allowing us to fully implement the application for the benefit of residents and
Gweru community," said Mazorodze.
He said their expectations were to see an improved
transparency in the payment of bills which will in turn impact on service
delivery.
Women in Communities (WICo) monitoring and evaluation officer,
Clemence Mutegeri said the Gweru city app was a digital technology breakthrough
for ease of payments.
"The Gweru City App is a digital technology
breakthrough for ease of payments and improved complaints handling and service
delivery.
"The application will contribute to increased claiming
of rights including water rights, improved accountability and service delivery on
the part of council workers.
"Finally, this breakthrough will contribute to the
United Nations' Sustainable Development Goal 11 of Sustainable Cities and
Communities," said Mutegeri.
Ward 9 resident, Sidiniwe Muromo said the establishment of
the app was a good initiative which residents welcomed.
"The new application brings convenience to payment of bills
and one only needs to transact from the comfort of their homes.
"There is no longer any hustles of going to council offices
and pay your bills. The app does it all and it is a very welcome development,"
said Muromo.