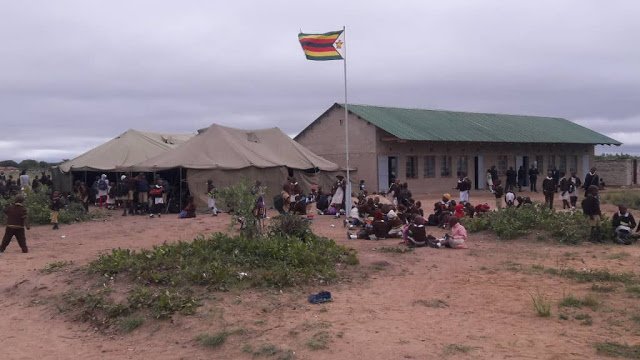 …560 pupils use one classroom block, two tents
CHIVHU –
There are enormous problems at Northwood Primary School where 560 enrolled pupils are using one classroom block and two tents as learning facilities.
The newly built school is facing infrastructure challenges after moving out of a rented upstairs building due to a hike in rental charges and lack of proper ablution facilities.
The lack of adequate infrastructure has seen grades 0 to 5 using two tents whilst grades 6 and 7 use one classroom block.
Northwood Primary School head Cosmas Made told TellZim News that his school will do its best to equip children despite the hardships but implored key stakeholders to intervene and help ease the situation.
"The situation is dire but we are trying to make the most out of what we have. We have two tents and on classroom block which is occupied by grades six and seven.
"The lower grades are using tents and we are soldiering one," said Made.
The school wrote to the District Development Coordinator (DDC), Chikomba RDC Chief Executive Officer (CEO), Chikomba RDC chairperson, Education ministry and the local councillor.
A meeting to discuss the matter was recently held and it was chaired by Chikomba DDC Michael Mariga.
Mariga indicated that he was moved to take action on the matter after a resident called to brief him on the deplorable state of affairs at the school whilst turning a blind eye on the letter addressed to him by the school and said council will intervene and assist in the construction of the school.
"I was called by a resident who informed me about the situation and I had a meeting with the council administration and in two weeks time, the council will finish constructing that block which is at window level to easy difficulties facing the school," said Mariga.
Chivhu Residents and Ratepayers Alliance (CHRRA) Chairman, Collen Zvarevashe appreciated the broad step towards the development of the school but implored that development needs a collective effort between residents and authorities to achieve the greater good.
"As local people we need to contribute to development and our business community should also be visible.
"The problem only comes when key stakeholders are not involved. We should work together for the greater good of our community putting politics aside as it is hindering development in our district," said Zvarevashe.