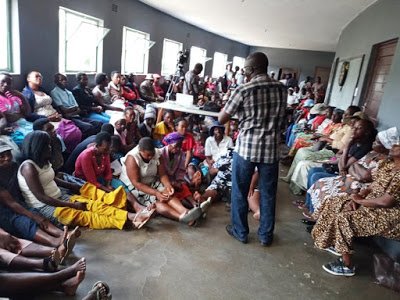 Moses Ziyambi
MUTARE
–
Activities of illegal gold panners upstream Pungwe River recently caused a
total shutdown of water pumping to Mutare city after council suspected that raw
water was possibly contaminated by toxic chemicals, it has emerged.
The details came out
during a public dialogue meeting between Sakubva residents and their
councillors at Beit Hall on Friday, December 13, 2019.
Participants at the
dialogue had sought answers from wards 4 and 5 councillors Edson Kalulu and
Simon Mapuvire respectively, as to what had caused the serious disruption which
saw their areas going for up to a week without tap water.
The residents
complained that council lacked tact in its communication with them, and that
the services they received was not commensurate with the rates they paid.
Other participants
argued that it was inexcusable for council to let high density residential
suburbs like Sakubva to spend a week without running water given their
vulnerability to contagious diseases like cholera and typhoid.
In response, Mapuvire
blamed the shutdown on illegal gold panners operating upstream the river which
is Mutare's source of raw water.
"There are illegal gold
panners operating there and their activities were behind the water shutdown.
Council noticed that water in the river had become unusually dirty and upon
investigations, learnt that it all emanated from the panners.
"It was then suspected
that the gold panners had possibly used dangerous chemicals that could not be
treated by our ordinary water purification processes. It was then resolved that
all pumping should be stopped and samples taken to a laboratory in Harare for
testing. After the results came back negative, normal water pumping resumed. We
are sorry that was not clearly communicated to residents," said Mapuvire.
Other residents accused
council of profiting from desperate tenants occupying its 'demeaning' hostels
in the suburbs.
"We can't continue with
the legacy of Ian Smith who put business ahead of human dignity by building for
us demeaning hostels with no privacy, and with no place for a decent family set
up. We say council should sell those hostels so that the new owners can
renovate and improve them," said Watson Mafuya.
The councillors
responded to the concerns by saying council had already agreed to dispose of
the hostels to tenants to give room for their improvement.