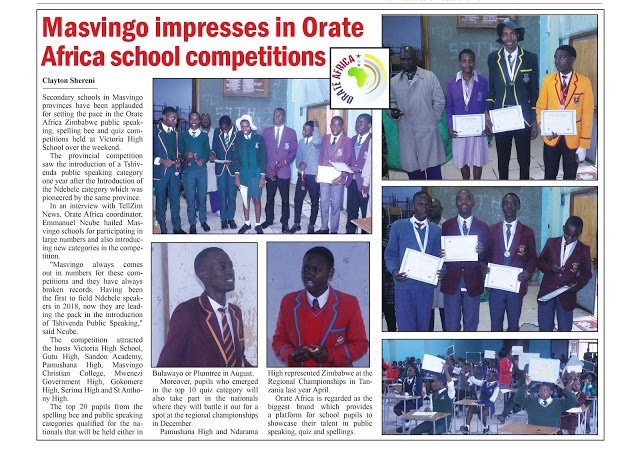 Clayton Shereni
Secondary schools in Masvingo provinces have been applauded for setting the pace in the Orate Africa Zimbabwe public speaking, spelling bee and quiz competitions held at Victoria High School over the weekend.
The provincial competition saw the introduction of a Tshivenda public speaking category one year after the Introduction of the Ndebele category which was pioneered by the same province.
In an interview with TellZim News, Orate Africa coordinator, Emmanuel Ncube hailed Masvingo schools for participating in large numbers and also introducing new categories in the competition.
"Masvingo always comes out in numbers for these competitions and they have always broken records. Having been the first to field Ndebele speakers in 2018, now they are leading the pack in the introduction of Tshivenda Public Speaking," said Ncube.
The competition attracted the hosts Victoria High School, Gutu High, Sandon Academy, Pamushana High, Masvingo Christian College, Mwenezi Government High, Gokomere High, Serima High and St Anthony High.
The top 20 pupils from the spelling bee and public speaking categories qualified for the nationals that will be held either in Bulawayo or Plumtree in August.
Moreover, pupils who emerged in the top 10 quiz category will also take part in the nationals where they will battle it out for a spot at the regional championships in December.
Pamushana High and Ndarama High represented Zimbabwe at the Regional Championships in Tanzania last year April.
Orate Africa is regarded as the biggest brand which provides a platform for school pupils to showcase their talent in public speaking, quiz and spellings.