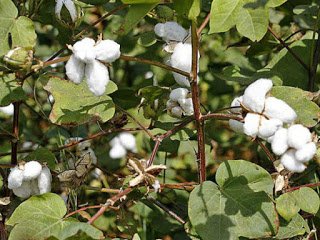 …as farmers threaten
to withhold yield over non-payment
Beatific Gumbwanda/
Veeslee Mhepo
CHIREDZI-
The
Agricultural Marketing Authority (AMA) together with the Cotton Company of
Zimbabwe (Cottco) last week launched a new cotton hybrid seed, Mahyco 571,
which is said to adapt to climate changes.
Mahyco 571 is a new cotton variety
which was developed by Quton Company to adapt to climate change and can produce
a boll weighing more than 6 grams, with a single plant producing more than 100
bolls.
AMA area manager Simon Pande said his
organisation was there to ensure that farmers have maximised their production
as well as secure the market for their crop.
"We are moving with time introducing
new seed varieties which can sustain climate change. Farmers need to maximise
their production by yielding more than 1 900 kilograms per hectare, that is why
we are introducing the new Mahyco 571 seed," said Pande.
Meanwhile cotton farmers have protested
the delays in payment by Cotton with some yet to receive payment for their
deliveries from the 2019-2020 farming season.
Addressing farmers at a 0.5 hectare
demonstration plot in Crown Range last week, Chiredzi North legislator Roy Bhila
lambasted Cottco for failing to live up to their end of paying farmers for the
cotton delivered to them.
"Before we could talk about the new
cotton variety, we should discuss pending issues first.
"Last season farmers were not paid for
what they delivered at Cotton except for some few groceries. From what I can
see, the company is also looking after this year's crop before they could even
settle the last season's debt.
"This is derailing the vision 2030 of the
middle income economy as farmers were equipped with land in order to self-sustain
but you are letting them down," said Bhila.
Last year, the cotton company of
Zimbabwe failed to pay farmers of their produce and gave them grocery hampers.
Over 300 cotton farmers from Masvingo
district, who are serviced by the Jerera depot, have registered their
displeasure with Cottco's no payment saying they would hold on to their
harvests until they are paid their dues.
Moses Mutoko a cotton farmer said the
company made payments plans with farmers where farmers chose groceries or money
as a form of payment and those who chose monetary payment have not yet received
anything.
He said farmers have consulted the
Cottco Jerera depot manager Tinashe Chinodyanyama several times and nothing
tangible came.
"We have been waiting for our payment
for a long time now and we depend on that money as farmers, we have tried to
consult the manager many times and all we get are delays.
"We are tired of waiting all we need is
our money and if we do not receive payment as soon as possible we will keep our
cotton and find other trading ways," said Mutoko.
Chinodyanyama said the situation was
beyond his office and only the higher office at the headquarters could solve
the impasse and he assured farmers that payment was on the way as soon as
members from the headquarters confirm with him.
"This is a national situation and only
confirmation from the headquarters in Harare can fix this issue but I assure
farmers will receive their payments eventually," said Chinodyanyama.