September 19, 2015 – Early Childhood Development (ECD) pupils at Chikava Primary School in rural Masvingo recently received a boost when a delegation from the Reformed Church University donated a truckload of handmade toys as the University intensifies its community engagement initiatives.
The donation of handmade toys developed by the RCU Bachelor of Education Honours Degree in Early Childhood Development students, is a strong demonstration of the University's vision for engagement and innovation for national transformation.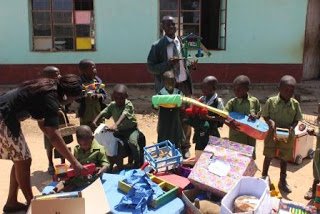 Commenting on this important development, RCU Vice Chancellor Professor Wiseman Magwa said , "the RCU is cognisant of the fact that its market position as one of Zimbabwe's Christian universities brings a level of responsibility to the communities within which it operates. As a University, we shall continue to make these initiatives in order to stimulate and consolidate sustainable development at all levels in society."
Chikava Primary School Head Mr. Zvavashe said he was humbled by this initiative, adding that Early Childhood Development students at his school had a lot to be happy and smile about.
The RCU's Business Development, Information and Public Relations office noted that, "the University uses these occasions as forums for the public to interact with the RCU brand, thus gaining insight into its identity as a University, and what it represents."
In its statement, the office added that, "RCU's dedication to being a responsible academic institution goes beyond merely providing teaching and research. Rather, the University strives for greatness with the urge to raise the RCU flag high and develop the vast potential that is proudly Zimbabwean."
The Reformed Church University was formed out of the Charter given to the Reformed Church in Zimbabwe (RCZ) by the Ministry of Higher and Tertiary Education, Science and Technology in 2010. The University, presently located at Morgenster Mission, about 35 kilometres from Masvingo, is Zimbabwe's 4th church-owned university.