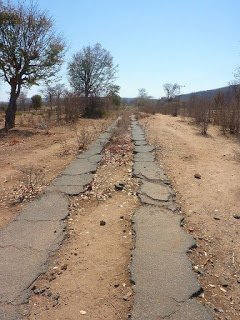 Peter Chawapiwa
03 April 2017, GUTU – Most roads in Gutu urgently need attention after the heavy rains that pounded the district rendered many areas hardly reachable, TellZim News can reveal.
Buses and small passenger vehicles are resorting to side roads to avoid getting stuck on the badly damaged roads.
The most affected major roads include the Gutu – Zvavahera – Chitsa, Gutu – Buhera and Mpandawana – Kurai roads. The first two roads have been surfaced for the first 11 kilometres while only 40 km of the Kurai road is tarred.
Transport operators said the incessant wet spell saw most parts of the roads becoming dangerous and difficult to drive on.
"Gutu has not received as much rainfall in the last 20 years as it received this year so the state of the roads is putting us out of business. You have to part ways with some of your money to pay villagers to assist pull your vehicle when you get stuck in the mud. This has increased the cost of doing business," said one kombi driver who plies the Gutu – Nyazvidzi road.
Another motorist said he was losing business because travellers between Gutu and Murambinda now choose to use the longer route through Chivhu.
A Zimbabwe United Passenger Company (Zupco) bus recently spent two days stuck in the mud close to Guzha Primary School.
The Gutu Rural District Council (RDC) and the Zimbabwe National Roads Authority (Zinara) were not immediately available to comment.