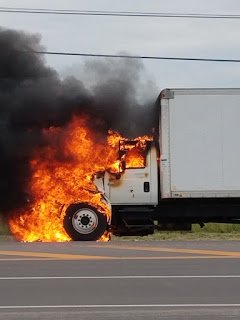 File picture
Perpetua
Murungweni
MASVINGO— A truck driver last week met his
tragic end in an inferno which engulfed his truck after crashing into the
trailer of another truck which he was trying to overtake.
Tragedy struck when Luckson Zinyakatira,
who was driving a super link truck from Botwest Investments, tried to overtake
another super link truck before facing oncoming traffic.
Zinyakatira tried to get back to his
lane to avoid head on collision with the oncoming traffic and rammed into the
trailer of the truck he was overtaking before his truck overturned and landed
on its side.
Masvingo provincial police spokesperson
Inspector Kudakwashe Dhewa confirmed the death of Zinyakatira who was burnt
beyond recognition when his truck burst into flames upon landing on its side.
Zinyakatira had a passenger in his
truck who managed to escape from the burning truck but sustained leg injuries
and burns on his stomach.
The passenger was later on ferried to
Neshuro District Hospital where he is reported to be in stable condition.
The remains of Zinyakatira were also
ferried to the same hospital.